Double Chocolate Chip Cookies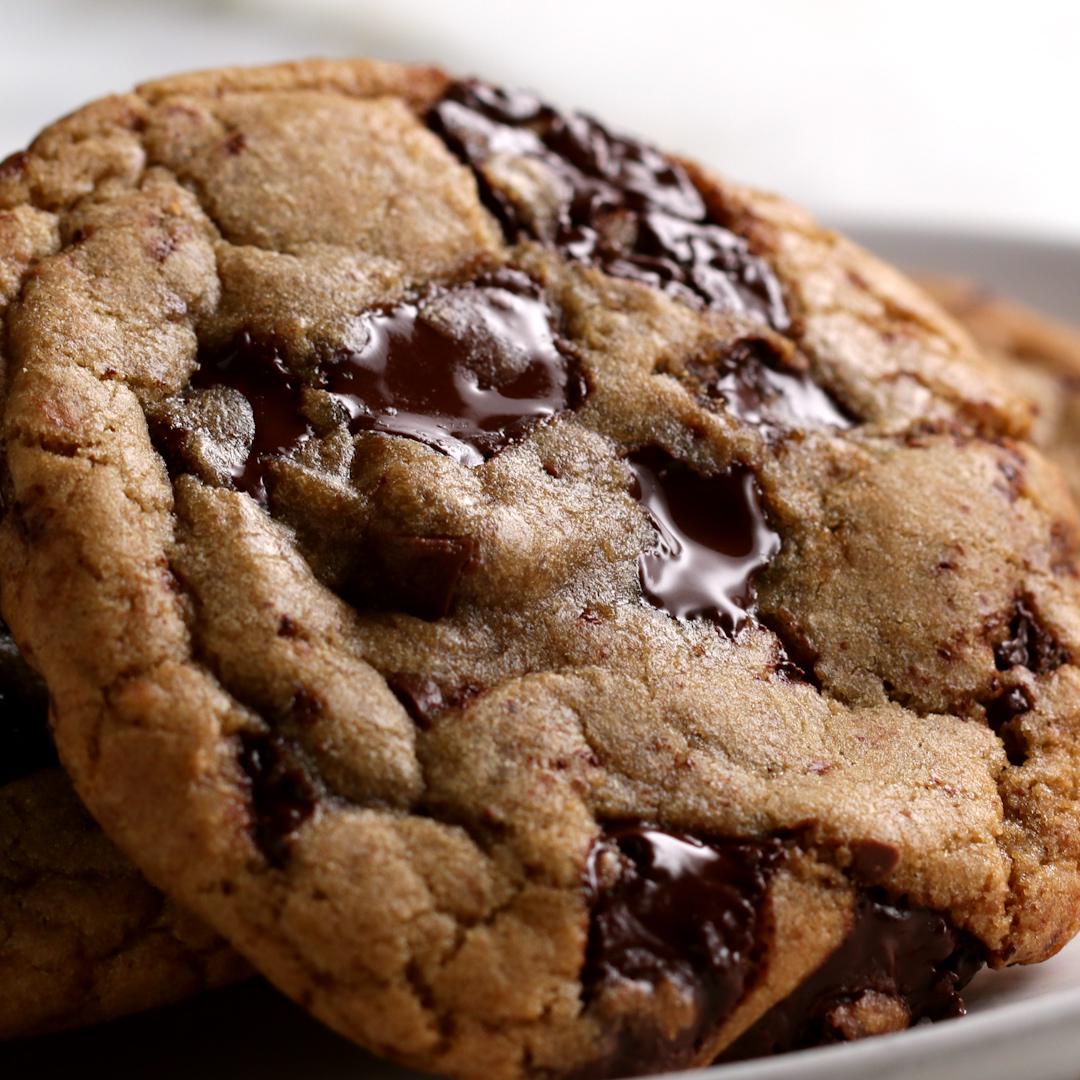 These are my rather infamous double chocolate chip cookies! Recipe first, gabbing after!
The Ingredients

2 cups flour
½ tsp baking soda
½ teaspoon salt
¾ cup butter, half melted or softened to room temperature
1 ½ c brown sugar
¼ c white sugar
1 egg, + 1 egg yolk
Vanilla and/or almond extract
1 ½ cups semisweet chocolate chips
1 cup milk chocolate chips or ½ milk chocolate and ½ cup dark chocolate

The Way of Preparing

Cream butter and sugars together well.
Mix together the flour, baking soda, and salt in a separate bowl or on a paper plate.
To the creamed butter mix, beat in vanilla, egg + yolk, and extract until very light.
Add the mix of flour, baking soda, and salt until just blended. Stir in chocolate chips.
Refrigerate for one to two hours in a covered bowl for easier scooping, in a disk shape for spooning off parts, or in a roll for slicing. Store in fridge for up to three days.
Drop by spoon, slice, or scoopful onto a nonstick baking sheet or silicone baking mat.
Bake for 15 to 17 minutes in an oven preheated to 325°F/170°C/Gas 3
Cool on the baking sheet for five minutes, and then transfer to a cooling rack to cool completely.

Notes:

Freezing Tips: Freeze pre-rolled cookie dough balls for up to three months. When ready to make, bake the frozen cookie dough balls, baking 12-13 minutes
For Crisper cookies: fully melt butter, drop brown sugar to one cup, up the amount of white sugar to 3/4 of a cup, and increase baking temperature to 350°F/180°C/Gas 4.
For Triple Chocolate cookies, sub out two tablespoons of flour for 2 tablespoons of natural (not Dutch process) cocoa and add a teaspoon of milk to the egg mixture. For the chips: use 1 cup semisweet chocolate, 1 cup white chocolate, and 1 cup dark chocolate chips.
I love making cookies. Not so much on the eating them, but I love to make them. Or rather, perhaps I love the reactions I get from people when I make cookies for them?
These particular ones are soft, chewy, and ridiculously chocolate-filled. I've tweaked it time and again for peanut butter and peanuts, apricot bits and white chocolate, or Andes mints and a touch of peppermint extract. It's a great base cookie recipe you can easily expand and personallize for you and your household's tastes.
This is another recipe that I used to keep frozen balls of dough in a freezer bag, ready to pop into an oven when someone came over looking for a little comfort and quiet time.
For me, the chocolate chip cookie is the ultimate example of a hospitality food. I always wanted to be the house with an actual cookie jar and fresh baked cookies to be found within.
Being diabetic, and not that big a fan of most cookies, has kind of assassinated that dream entirely. Like dropping said cookie jar off the counter, I got to watch it shatter. But now I can share the recipe with you lovely people.
Let me know how it works out for you! Are there any personal tweaks you made? Share pictures!