I'm on a boat! No, it's not a three hour tour.
This is a pre-written post whilst I am on holiday with my Darling Wife and the in-laws!
So, while I'm gone for six days and seven nights, or something like that, I thought I'd run through a few of my favorite coping mechanisms.
Today's is my secondary coping mechanism: baking.
Here's a recipe I've made a time or two over the years that always seems both comforting and decedent: Texas Sheet Cake.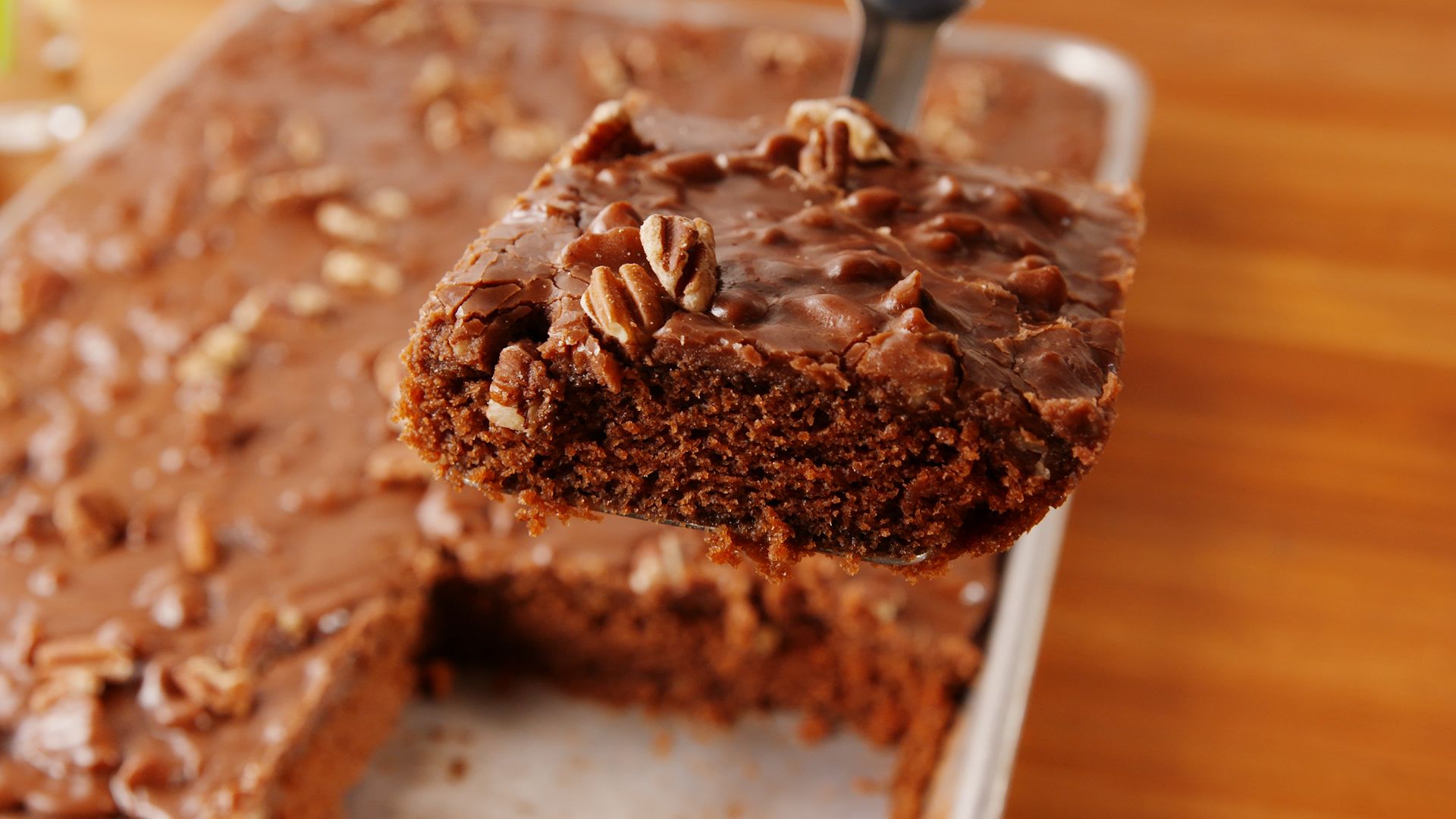 The Ingredients

Cake:

Cooking spray
2 teaspoons all-purpose flour
2 cups all-purpose flour
1 cup granulated sugar
1 cup light brown sugar, packed
1 teaspoon baking soda
1 tablespoon ground cinnamon
1/4 teaspoon salt
3/4 cup water
1/2 cup butter, good quality
1/4 cup unsweetened cocoa
1/2 cup low-fat buttermilk
1 tablespoo vanilla extract
2 large eggs

Icing:

6 tablespoons butter, good quality, unsalted
1/3 cup full fat milk, room temperature
1/4 cup unsweetened cocoa
3 cups powdered sugar
1/4 cup chopped pecans, toasted
1 tablespoon vanilla extract

The Way of Preparing
For the Cake:

Preheat oven to 375
Coat a 13 x 9-inch baking pan with cooking spray and the 2 tablespoons of flour.
Combine the flour, sugars, salt, baking soda, and cinnamon in a bowl. Whisk to combine.
On the stove, combine the ¾ cups of water, good quality butter, and the cocoa powder in a small saucepan. Over medium heat, bring the mixture to a boil, stirring frequently. Remove from heat and carefully pour into the sugar-flour mixture.
Beat this with a hand mixer at medium speed until well-blended and uniform.
Add the eggs, vanilla, and buttermilk, beating well after each edition.
Pour batter into prepared pan; bake at 375º for 22 minutes or until a wooden pick inserted in center comes out clean. Place on a wire rack to cool while making icing.

For the icing:

In a small sauce pan combine the butter, milk, and 1/4 cup cocoa in a medium saucepan. Bring mix to a full boil, stirring constantly.
Remove from heat, and gradually stir in powdered sugar, pecans, and 2 teaspoons vanilla. Spread over hot cake. Cool completely on wire rack.
Notes
How to make better: Add a shot of fireball whiskey, use good quality cocoa powder, and use an excellent butter for the icing.
Tweaks: Can also be made in a 15 x 10-inch jelly-roll pan.
Using chopped cinnamon sugar pecans on top give it an extra kick and crunch.
If doubling the recipe to make a stackable cake, halve each layer and use apricot or raspberry preserves in between the layers with a simple stabilized unsweetened whipped cream or vanilla mousse as filling with finely diced pecans for added crunch. Makes a great naked cake with the fudge icing on top.
I first had this cake at a Tampa-based barbecue institution called Kojack's. I was dating a guy named Adam and his family loved the place. I've not liked it much since I tripped up the stairs in front of an entire group of people. Adam was waiting in the car and didn't notice my fall. When I told him, his answer was to inquire if I had dropped any of the food and then to ask if I was all right.
So.
At least the cake is delicious. Let me know if you make it and how it comes out for you!
What's your go-to coping mechanism? I'll be covering a few more over this week.
Take your meds, folks!